ALCHIMISTA
Feminine beauty
Soft and balmy, sensuous and warm, Alchimista Créme parfum invites you to embrace your feminine beauty, an essence you instinctively know as a woman.
With a heart of exquisite Rose petals and exotic Jasmine flowers, both the symbol of love, purity, sensuality, passion and beauty, it calls you to reconnect with your true innate nature internally. 
Esteemed for promoting spiritual wellbeing and known for their abilities to relieve stress, opening the heart, lighten emotional tension and depression, healing emotional wounds and even balance our hormones, these treasured flowers take center stage in this elegant and silky natural perfume pomade together with the grounding and slightly musky amber-elixir Labdanum (from the flower Rock Rose) in a background drop of earthy aged Pine and joyous, bittersweet Citrus.
Directions of use:
Gently rub a little Créme Parfum onto the pulse points of your wrists and neck and perhaps to the skin on the upper chest and let it penetrate your spirit.
Or "Anywhere where one hopes to be kissed" as Coco Chanel famously said.
(Although be aware that our perfume balm is not made as a lip balm or for particularly sensitive skin membranes.)
Allow the fragrance from the richness of the plant kingdom to soothe and seduce your senses and to take you beyond modern life chaos to a world away – on a meditative journey to reconnect yourself. Keep your favourite Créme Parfum jar close at hand and open to inhale anytime you need to absent yourself from the hectic buzz and seek some inspired comfort and scented interlude.
Use the perfume pomade as a form of self expression – as a natural perfume will melt with your own body scent to create a special bouquet fragrance uniquely yours.
Unlike synthetics that cover the skin smelling the same on everyone (and often emitting an irritating odour of chemicals), a natural botanical perfume is food for your body. The natural and beautifully fragrant botanical oils enter the skin and become a part of your very own body's fragrant aura.
" A fragrance is like a dress, an expression of personality. It can be both erotic or powerful, or both, but it always combines femininity and sensuality."
                                                                   – Gianfranco Ferre, italian designer
When it comes to Jasmine and Rose they have several things in common as many of their healing properties overlap, even though the visual aspect of the flowers and their aromas are different. Both flowers, known for their beautifying and therapeutic qualities, have been used in practically all countries they have occurred since antiquity. While the rose is 'the queen of flowers,' jasmine is indisputably the king. And "No perfume without Jasmine" an old saying goes.
Stimulating on the mind and believed to have the ability to revitalize, restore and balance energy as well as bringing confidence and optimism, the snowy white Jasmine is truly a gem in the crown. Most Jasmine flowers bloom at night or dawn, and the exquisite flowers in the wildcrafted Jasmine absolute from India we use in Alchimista are carefully hand picked over night. As many as 8000 un-bruised blossoms are needed to create one single milliliter of this very precious and unique pure oil.

Originating in China and India, the jasmine plant only arrived in southern Europe in the sixteenth century and was first cultivated in Provence, being a gift of the Arab trade network.
In medieval art, the Jasmine – which means 'a gift from God' – was associated with Virgin Mary.
The ancient and much loved rose, a native of the Orient, was introduced to Europe early on and in the Middle Ages old roses were grown in the gardens of monasteries for their medicinal properties.
As with Jasmine, it takes a staggering amount of flowers to make rose oil, about 4 tons, or 1,600,000 hand picked rose blossoms are needed to make only 1 kg of the most precious and expensive essential rose oil.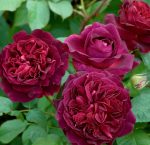 'The rose was probably the first flower which an essential oil was ever distilled, in 10th century Persia. The great Arab physician Avicenna, is credited with having distilled the first Rose oil, possibly by chance during the course of alchemical experiments. The rose has considerable significance in the theoretical and metaphysical aspects of alchemy, with red and white roses each being thought appropriate to different stages of the alchemist's work, and for this reason they were placed in retorts and heated with a variety of different materials in the attempt to transmute metals into gold, producing rosewater and essential oil almost accidentally in the process'
                                                                                                 – Patricia Davis, Aromatheraphy an A-Z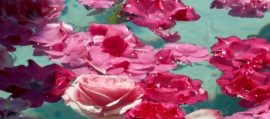 "Mystery glows in the rose bed and the secret is hidden in the rose."
– Farid ud-din Attar, 12th century Persian Alchemist