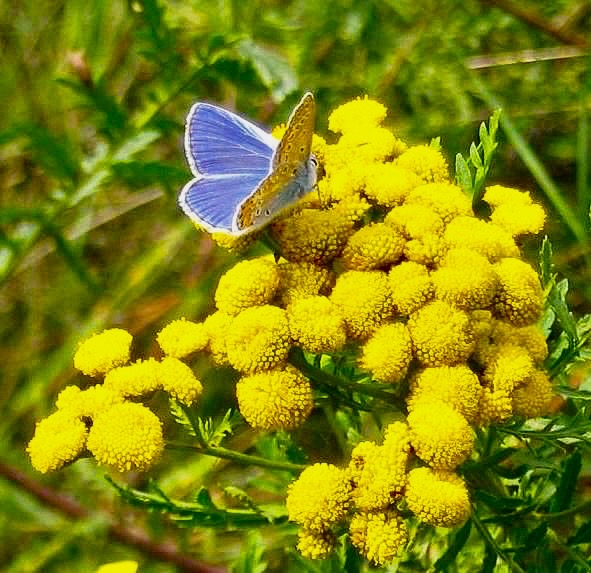 Plant powered facial serum to calm and reset the skin.
With it's sweet and earthy floral-fruity aroma, Blue Tansy facial Serum is made to sooth and calm delicate, irritated skin and reduce redness and flair ups. 
Blue Tansy (Tanacetum annuum), a rare botanical from North Africa, plays a stellar part in the formulation of this therapeutic and skin-benefitting facial serum. The complex warm, herbaceous bitter-green and sweet floral aroma calms and soothes the nervous system and works like an anti-anxiety rescue remedy for the skin as it is providing emotional stability.
This wild growing plant, with it's nickname Moroccan Chamomile, is in reality not visibly blue at all, but has small yellow button like flowers. Not surprisingly, it is related to other Chamomile species, Yarrow and Immortelle. And it consists of a naturally occurring chemical component called azulene, from the spanish word azul, meaning blue. A precious oil distilled from Blue Tansy has a high resonance energy and is deep dark blue in colour that is capable of reducing heat. (Hence its 'blue' name.)
Medical and herbal medicine have long recognised the therapeutic potential of this blue oil and it is known for its excellent anti-inflammatory and antihistamine effects. **
Blue Tansy, with its many amazing attributes, is also high in antioxidants and has antihistaminic properties, it relaxes the nervous system and can regulate hormones in the endocrine system as well as regenerate liver cells and assists in detoxifying the body in general.
Inflamed skin is irritated skin. And it is one of the body's ways of responding to threat or damage. It can have many triggers such as an immune system dysfunction, sunlight reaction (photosensitivity), sunburn, allergic reaction, or an infection. Hypersensitivity and skin inflammation can cause redness, pain and a burning sensation, itching and dryness. 
Blue Tansy, addresses these issues and apparently works at an early stage of the inflammation process, preventing the synthesis of the proteins that would transmit inflammation. ***
"The deep, complex herbaceous sweet floral aroma of Blue Tansy instantly calms the nervous system, working double-duty for the skin while also helping to sooth the emotions."
Luxurious in texture, this high performance botanical facial serum is also rich in essential fatty acids the skin can not make by itself. And when blended perfectly in a balanced ratio, this can help and support the skin, making it stronger so it can properly protect itself.
Deeply nourishing Evening Primrose, rejuvenating virgin Plum seed oil, 'ani-ageing' Milk Thistle oil and the super-food Acai berry oil from the rain forest in the Amazons support the beautiful 'blue flowers' Blue Tansy, German Chamomile and Yarrow together with Stinging Nettle and seaweed in this soothing and cooling 'bath-tonic' for delicate and distressed skin. 
* https://www.ncbi.nlm.nih.gov/pmc/articles/PMC5796020/
** Peter Holmes, Lac, MH, 'Aromatica, a clinical guide to essential oil therapeutics', page 154.
*** Kurt Schnaubelt., Ph.d 'The healing intelligence of essential oils', Page 161