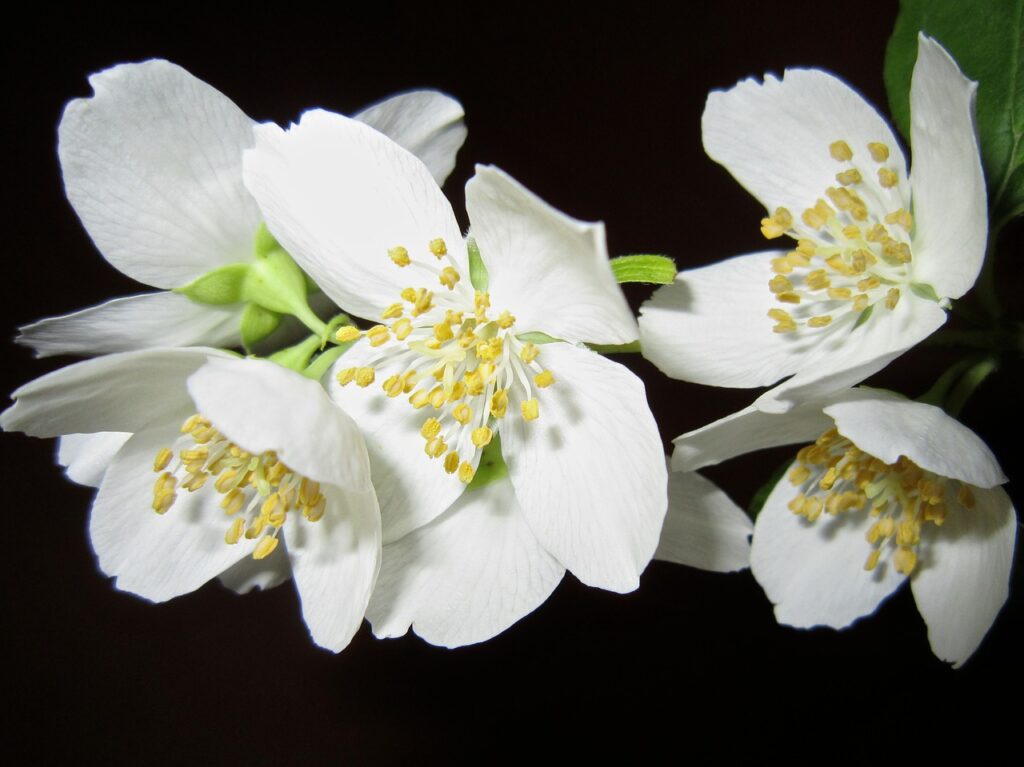 Active facial treatment
for dry, sensitive and mature skin
Majestic Jasmine and Royal Sandalwood in sweet poetic copulation make up the heart of this exquisite facial serum. Like a powerful, yet sweet-temperate regal team, they gracefully address the challenges the advancing skin inevitably meet upon its life journey.
In a base of rare and unparalleled Sandalwood nut oil, known to increase dermal strength and skin elasticity (also called 'a natural botox'), the Jasmine flower's ravishing beauty is free to compose her own healing and beautifying poetry.
Sweet and floral, fruity and spicy are some of the words used to describe the heady aroma of the Jasmine flower, as its name also suggests – derived as it is from the Persian word Yasmin, meaning 'fragrant flower'. The intoxicating Jasmine is one of the most exclusive, beloved and sought after flowers for perfumery.
Being an aphrodisiac and antidepressant, it is also known for meaning purity, softness, femininity, nobility and holiness and it is considered a flower of love.
In addition Jasmine has historically been used for its numerous health benefits and healing properties. And used in skincare it has been found to have an outstanding effect on skin health as it naturally balances the complexion and brings out its inner glow. Jasmine nourishes and moistens dry, brittle, sensitive, devitalised and mature skin. It is rich in a variety of active chemical-molecules that are effective in evening the tone of the skin as well as reducing the appearance of age spots and smoothing out fine lines.
Besides its beneficial effect on the nervous system, Jasmine is antibacterial, anti-inflammatory and immune stimulating whilst also brimming with natural antioxidants, thus protecting against environmental stressors.
Like scented stars appearing in the evening, the jasmine flower is also nicknamed 'Queen of the night' as her enchanting and potent fragrance fills the hours between dusk til dawn. The aroma of the flower is documented being a powerful relaxant and is said to aid better and more restful sleep.* Regal Jasmine facial Serum is therefore the perfect night time treatment as it helps improve cell renewal functions at the level of epidermis and dermis and reinforces the protective skin barrier – meanwhile potentially assisting in a more productive sleep!
Night is the time when our bodies recovers from the challenges of the day, and the time when the skin repairs daytime damage – a regeneration process up to three times faster than during the day. During the nighttime the cell production is at its peak and with being more active, skin is more permeable and most able to absorb topical treatment. Thanks to overnight water loss, our skin is also now the driest. And it is the perfect time to add a super active skin nectar to maximise the skin's renewal process and to impart plenty of moisture to compensate for the water loss. A nourishing oil based elixir can work wonders and we recommend our Regal Jasmine Serum as a nighttime treatment – packed with potent actives and rich in vitamins, minerals, lipids and antioxidants it will help increase skin nourishment, moisture and suppleness.
The exquisite organic Jasmine extracts used in our Regal facial serum hail from both night and dawn blooming flowers in India, where the blossoms of the plant have been considered holy.
Even though the Royal Jasmine is the queen in our precious facial serum, she does not hold court alone, as several other plant allies stand as her retinue, creating this rich and complex skin elixir.
True and unique oils from both the fragrant heartwood of the tropical Sandalwood tree and it's nutritious nuts are incorporated. The unusual Sandalwood nut kernel is rich in one of the rarest fatty acids found in the world – ximenynic acid, which is powerfully anti-inflammatory and hailed as an active ingredient to combat the skin ageing process. It is said that ximenynic acid improves blood circulation, strengthens and tightens the skin by reducing the deflation of hyaluronic acid and collagen, leading to better appearance and texture of the complexion.
Some of the other sublime skin-active ingredients in the highly penetrating Real Jasmine Serum are the exotic buriti fruit and beautiful magnolia flower, orange blossoms, true Tahitian vanilla, frankincense, immortelle, chamomile, amaranth and acai berries, seaweed extract and bakuchiol (a gentle, natural plant-derived 'retinol').
Ideally use the luxurious Regal Jasmine Serum at night (although it is also perfectly suited for daytime as well) in combination with Wild Rose Serum during the day, brimmed as it is with antioxidants and various other natural sun harmonising compounds protecting against the light and harmful rays.
* Researcher Dr. Bryan Raudenbush, Wheeling Jesuit University, West Virginia (www.reutershealth.com October, 2002)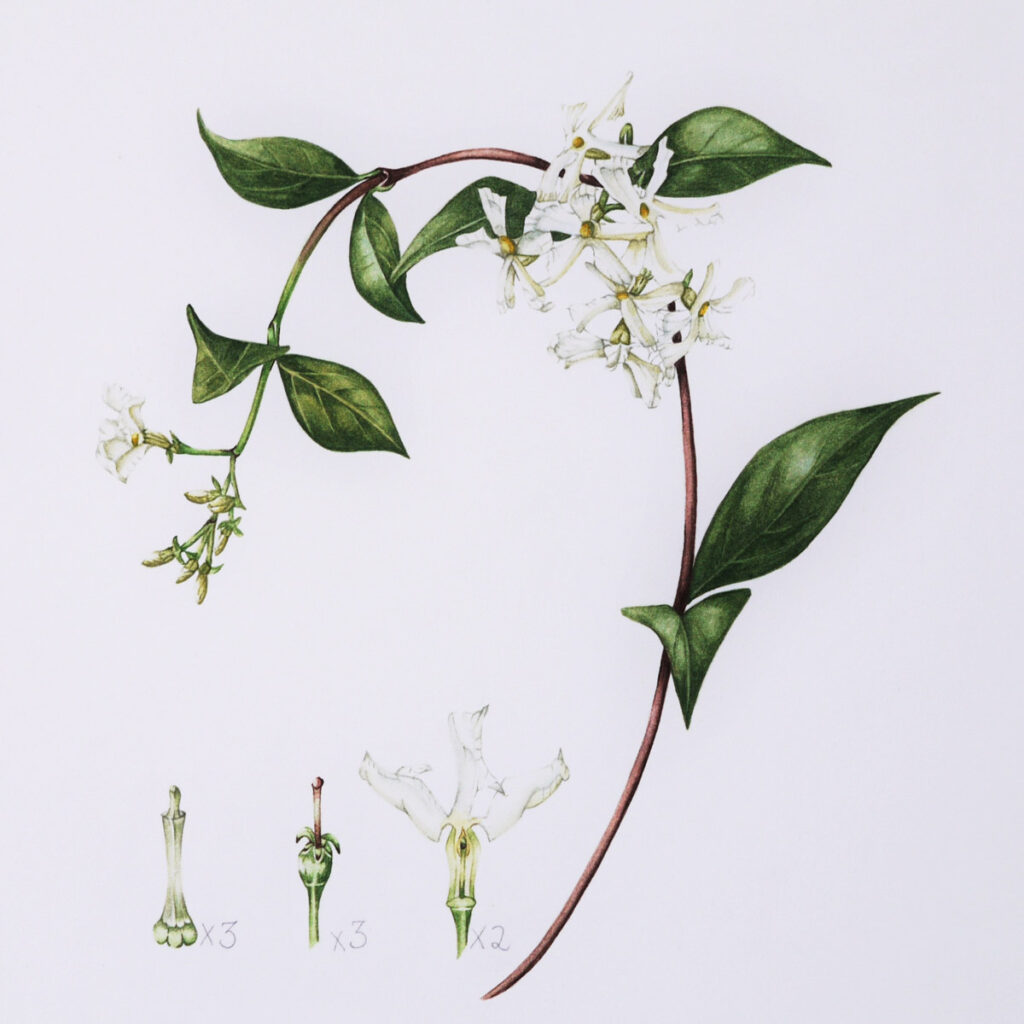 "From plants that wake when others sleep, 
from timid Jasmine buds that keep their odour to themselves all day,
but when the sunlight dies away let the delicious secret out
to every breeze that roams about." 
                                                         – Thomas Moore