DKK

580 –

DKK

780
Sometimes a Person, a Creation, a piece of Art comes along that immediately touches your heart. Where the feeling of YES echoes through your whole body.
This is what happened to me, when I met Ingvild, the creative Alchemist and founder of Alabastra botanics.The beauty, purity and extreme aesthetics she radiates, is also found in her line of pure, plant based ointments, creams and serums, which are made with the finest ingredients, utmost dedication and commitment. There is an aura of minimalism, beauty and honesty found in Alabastra botanics. 
The clean, botanical extracts in the different forms are of an uncompromising standard and each of the delicate black glass jars and bottles are filled with nourishing and restorative moisture and a divine smell. You literally sense the Love and care that has gone into each and every jar.
There seems to be a recognition by my skin, so it starts to work synergistically with the serums and oils – calming, balancing and regenerating. 
They seem not only to have myriad benefits – they also seem to adapt to whatever is needed.
My skin routine has not only become far simpler – less is more – also for our skin – my skin rituals have also become more beautiful. 
We now know that whatever we feed our skin is absorbed and passed into our bloodstream.
So lovingly caring for and feeding my skin, Alabastra pure plant richness feels like the ultimate Skin Soulfood. 
                                                                                    – Annie von der Heide, Author of "Sjæleføde" (Soulfood)
Note to costumer:
The Boutique page is a current addition to this website, and for practicality sake at this early stage the product-material presented on the page is visually portrayed by the same photo-image of one Miron glass jar. But in real life the assorted products have slight variations in shapes and sizes and come with their individual entitled labels that will typically look like this;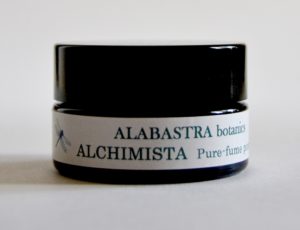 The prices are inclusive 25% danish VAT (tax) and are reflected by the superior quality ingredients and their market price respectively. 
Alabastra botanics' natural products are genuine and superior herbal remedies with therapeutic, bioactive components. For optimal freshness, we make small batches. The potions are lovingly crafted by hand, potent and concentrated, and delivered in small volumes, (as only small amounts are needed.) No fillers or unnecessary additives are being used. 
Unless other is stated, preferably use within a year of opening. Best kept away from strong heat and direct sunlight.